Leadership and Participation
South Australia has always been a progressive State and was the first in Australia and the fourth place in the world where women gained the vote. In 1894 when all adult women were given the right to vote, there was no restriction by age or marital status unlike other countries where women had the vote. In fact, since 1861, women who owned property and paid council rates had the right to vote in local council elections. Women were also given the right to stand for Parliament in 1895, the first place in the world.
Building on this strong history, the South Australian Government is committed to enabling women to reach their potential as leaders in every field while recognising, honouring and celebrating the achievements of our women leaders.
Boards and committees
Boards and committees
The Office for Women works towards ensuring that more women are able to make a contribution as leaders and key decision makers in the South Australian community. One way to achieve this is to increase the number of women members of boards and committees.
The Business Case
State Government boards and committees
Federal Government boards and committees
Useful links
General tips for board members
Training providers and board directories
Premier's Women's Directory
The Premier's Women's Directory has merged into BoardingCall to create a single platform for connecting aspiring women to board positions. Premier's Women's Directory closed in July 2020.
BoardingCall (launched 2019) is the State Government's primary online database for making appointments to its boards and committees. It is managed by the Department of the Premier and Cabinet.
BoardingCall enables people interested in being on a South Australian Government board or committee to:
register an account
create a personalised profile, and
upload a CV.
Inspiring South Australian Women's Award
Inspiring South Australian Women's Award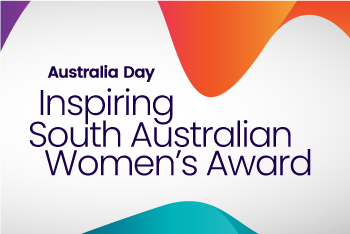 The Inspiring South Australian Women's Award (formerly known as the Women Hold Up Half the Sky Award) recognises an outstanding woman who has made a significant contribution to the community. The award recognises the outstanding contribution women make, in a voluntary or paid role, in advancing and enriching our society. The award is designed to acknowledge those women who have previously not been publicly recognised for their work and service to the community.
The award categories are:
Inspiring SA Women's Award
Emerging Leaders Award
A Commendation Award may be bestowed to encourage the future potential of the nominee.
The award is part of the Australia Day Awards and honours and is jointly coordinated by the Australia Day Council of South Australia and the Office for Women.
2022 winners
Liz Habermann
Liz is a highly regarded businesswoman and volunteer in her Wudinna community on the Eyre Peninsula, and received this award for her campaigning to pass Voluntary Assisted Dying legislation following her son's death after a long battle with bone cancer.
Melanie McHugh - Commendation
Port Augusta Woolworths Store Manager, Melanie McHugh is leading the way in engaging local youth in innovative programs aimed at keeping local youngsters out of strife.
Farida Ayubi - Commendation
Farida Ayubi is the founder and joint owner of spectacularly successful Parwana restaurant in Torrensville specializing in Afghani cuisine that has hosted sold-out fundraising dinners in aid of those left behind in Afghanistan.
Bianca Nilsson - Emerging Leader
In the space of a few years Bianca has gone from working graveyard shifts in a northern suburbs potato factory to becoming a worldwide phenomenon in the music industry.
Previous winners
Pat Waria-Read (2011)
A proud and well-respected Ngaduri Elder, Pat has been a catalyst for the rights of Aboriginal women on a community, state and national level, ensuring their voices are heard, acknowledged and respected.
Katrine Hildyard (2012)
As Branch Secretary of the Australian Services Union, Katrine led a union campaign to ensure that workers in the community sector are paid appropriately.
A Special Commendation went to Stephanie O'Connor, an 18 year old woman acting as primary carer in her household since she was 13 years old.
Lucy Evans (2013)
A Narunga woman from Port Pirie, Lucy has worked in the area of Aboriginal health for over 10 years and has been instrumental in improving health outcomes for Aboriginal people.
Tam Boakes (2014)
Tam Boakes participates actively in the support and development of music in South Australia by providing performance opportunities for local bands and artists as well as investing in and giving back to the industry in many ways.
Michelle Sibbons (2015)
When Michelle's daughter was born with the rare disorder Congenital Melanocytic Nevus, a potentially life threatening condition, she began the Australian Nevus Support Group to provide information and an online community for other parents and children living with Congenital Melanocytic Nevus.
A Special Commendation went to Karyn Bradford for her ongoing commitment to the community of Milang and the hard work she puts into creating a vibrant, supportive community.
Tara Fatehi (2016)
Tara is a Kurdish born PhD medical student and youth charities ambassador. Since migrating to South Australia from Kurdistan at age 3, Tara has been determined to give back to her community by using her education, knowledge and experience to help migrants and refugees build a better life in South Australia.
A Special Commendation went to Judith Wirtz for her 25 year voluntary commitment to the Warradale Branch of Meals on Wheels.
Sandra Dann (2017)
Sandra has made a career of advocating for the rights of women at work, as Director of the Working Women's Centre SA and as part of numerous committees, panels and advisory groups including being a founding member of, and adviser to, the Board and staff of the Working Women's Centre in Timor-Leste.
A Special Commendation went to Councillor Lisa Lumsden of the Port Augusta City Council. Lisa has played a key role in advocating for children's services and for greater community involvement in council decision-making.
Sarah Gun (2018)
Sarah is a passionate advocate and social entrepreneur who established Gogo Events as a social enterprise with the explicit aim of training homeless and disadvantaged people to produce décor items and event materials, then employ these trainees to install their events. Through Sarah's work and the partnerships she has created, Sarah is changing lives and empowering people to build their confidence and capacity.
A special commendation went to Margaret Hempel for her outstanding contribution to the South Australian Country Women's Association (SACWA) for over 60 years as a key member of the Loxton district, state wide and the Pacific region through the associated activities of the association and SACWA's Women of the World activities.
Emmah Evans (2019)
This year's Women Hold Up Half the Sky Award recipient is Emmah Evans, a woman who lives with Cystic Fibrosis but is a also a renowned public speaker and advocate for people with cystic fibrosis. Emmah is an inspirational role model who is committed to changing lives for the better and is proof that a disability should not define you.
Professor Helen Marshall - Inspiring SA Women's Award Winner (2020)
A medical clinician researcher and National Health and Medical Research Practitioner Fellow with specialist training in child health, vaccinology, and public health, Professor Helen Marshall has dedicated her career to practicing and leading medical research at the forefront of the global fight to stop meningococcal disease.
A commendation went to Carmen Garcia for her work as a role model in the Australian Filipino community. She is the youngest and first Australian born Filipina elected as the National President of the Filipino Communities Council of Australia.
Arundhati Banerjee - Emerging Leader Award Winner (2020)
Arundhati has used the art of dance to raise awareness for several causes such as children and young adults suffering from down syndrome, dyslexia, cancer as well as thematic presentation towards supporting LGBTQ, raising funds for women who are victim of domestic violence and several others.
Dawn Jennings - Inspiring SA Women's Award Winner (2021)
Dawn Jennings is a compassionate, devoted and selfless carer who has fostered children since the early 1990s. Dawn has provided a home 91 times within the fostering environment and has safeguarded these children until permanent homing solutions were discovered and secured.
Laura Campbell and Caylin Bristow - Dual Emerging Leaders recipients (2021)
Laura and Caylin are exemplary role models within their local community, recognised for their mentoring and leadership skills resulting in them both becoming Directors at the Christies Beach Surf Lifesaving Club. Laura and Caylin help to foster a culture of inclusivity and acceptance that is welcoming for all young people, by addressing the bullying, body shaming and social exclusion issues experienced by many young people in our community. Laura and Caylin also introduced the 'Surf Sisters' camp which promotes a safe environment for young women to build self-esteem and a sense of belonging in a male dominated environment.
Kaitlin Purcell (2021) received an Emerging Leader Commendation for her support for the introduction of women's football across many regional communities. Her passion and commitment to the sporting industry is demonstrated through her multiple volunteering roles and her ambassadorial role with Around the Campfire, a not-for-profit sporting organisation promoting reconciliation and diversity on the sporting field.
More information
Local Government
Local Government
Susan Grace Benny was Australia's first woman politician in elected office, becoming a member of SA's Brighton Council (now City of Holdfast Bay Council) in late 1919 — only weeks after Nancy Astor's celebrated election to the British Parliament.
At the 2018 elections, a record percentage of women stood for and were elected to local government. 35.5% of elected candidates in local government are women across South Australia.
Local Government elections will be held next in 2022. Information on how to nominate is available at the Local Government Association website.
South Australian Women's Honour Roll
South Australian Women's Honour Roll
Aboriginal and Torres Strait Islander people — please be aware this website may contain names, images and voices of deceased persons.
The South Australian Women's Honour Roll is an important part of an ongoing strategy to increase formal recognition of women who contribute to the South Australian community. Held every two years, the Honour Roll acknowledges and celebrates the diversity of women in our community and their commitment to effecting change to ensure that we live in a safer and more inclusive society.
All women nominated are included on the ongoing list of nominees on the Office for Women website. Through a panel process, twenty women who have been selected for making an exceptional contribution are included in the 2021 South Australian Women's Honour Roll publication. The outstanding nominees were honoured at a reception at Government House in November 2021.
Nominations were assessed by a panel of community members, who recommended which women should be inducted to the Honour Roll.
2021 Honour Roll
2021 SA Women's Honour Roll (PDF 330.7 KB)
Previous Honour Roll nominees
SA Australian of the Year
Outstanding women included in the SA Women's Honour Roll are nominated for the Australian of the Year Awards each year to provide national recognition for the contribution they make to the community.
Emmah Evans was awarded the 2020 SA Local Hero Award and was included in the Honour Roll in 2019. Emmah was recognised for her work to raise awareness of Cystic Fibrosis and funds for research into a cure.
Vicky Welgraven, was a finalist in the SA Australian of the Year 2019 category and was included in the Honour Roll in 2015. Vicky was recognised for her advocacy for Aboriginal and Torres Strait Islander women and activism to end domestic and family violence.
Patricia Buckskin PSM, was awarded the 2017 SA Senior Australian of the Year award and was included in the Honour Roll in 2015. Patricia was recognised for her lifelong passion for Aboriginal education and her instrumental role in setting up the Kaurna Plains Aboriginal School.
Lavene Ngatokorua, a Davenport community champion inducted into the SA Women's Honour Roll in 2015, was a finalist in the South Australian Australia's Local Hero 2016 category.
Dr Gill Hicks MBE, was awarded the 2015 SA Australian of the Year award and added to the Honour Roll in the same year. Gill was recognised for her work as founder of M.A.D. for Peace and her work to end violent extremism.
Dr Felicity-ann Lewis, winner of South Australia's Australian of the Year Award 2014, was included in the SA Women's Honour Roll in 2008. Felicity-ann won the 2014 award in recognition of her passion for creating a better, healthier and more inclusive Australia.
Women's Roll of Honour for the 20th Century
The International Women's Day Committee (SA) Inc developed an Honour Roll for South Australian Women (PDF 5.0 MB) in 2001. This Roll lists outstanding women who made a positive impact on South Australian life from 1900 to 1999.
Groups, Networking and Useful links
Groups, Networking and Useful links
Mentoring and coaching
Networks
Agriculture, Food and Fisheries
Automotive and Aviation
Building and Engineering
Business
Economics, Finance and Maths
Education
Innovation, Technology and ICT
Media
Mining and Resources
Parliament and Politics
Other awards for women
Other awards for women
Agrifutures Rural Woman of the Year Awards
The Agrifutures Rural Women's Award is Australia's pre-eminent Award for rural women. The Award identifies and supports emerging women leaders who have the desire, commitment and leadership potential to make a greater contribution to primary industries and rural communities.
The Award supports women both financially and professionally. Each state and territory winner will receive a $10,000 financial bursary to implement their Award vision. Each winner also has the opportunity to participate in the Australian Institute of Company Directors Company Directors Course and will be supported to develop an individual integrated leadership plan.
The National winner will be given an additional $10,000, and the National runner-up will be given an additional $5,000 bursary to assist in meeting national commitments such as speaking engagements.
More information
Agrifutures Rural Women's Awards
Page last updated : 05 Mar 2021