Economic status
Women continue to earn less than men, are less likely to advance their careers as far as men, and are more likely to spend their final years in poverty.1
Research has shown that closing the gap between men and women's employment rates would boost the level of Australia's GDP by 11%.2 In addition, companies operating with a gender-balance actually enhance their innovation and gain a competitive advantage.3
Removing disincentives for women to enter the paid workforce would increase the size of the Australian economy by about $25 billion per year.4
In this section you can learn more about the issues affecting women's employment and economic status in South Australia, including:
#STEMSelfie
#STEMSelfie
Women working and studying in science, technology, engineering and mathematics are encouraged to post a photo of themselves on social media using the hashtags #STEMSelfie and #WomenInSTEM
STEM selfies highlight women working in STEM and challenge the stereotype of what a scientist, engineer and other STEM professionals looks like. They also celebrate the massive contribution of women to STEM, breaking stereotypes, and raising awareness about the importance of creating an inclusive space in STEM for everyone.
Download the #STEMSelfie How to Guide (PDF 1.3 MB)
View the STEMSelfies we have received so far
United Nations International Day for Women and Girls in Science #STEMSelfie celebration
The 11 February each year marks the UN International Day of Women and Girls in Science.
On 10 February 2017 the Office for Women celebrated this day by showcasing the more than 80 STEMSelfies received to date. The networking event was hosted by BHP Billiton and attended by more than 100 people.
View the photos of the 2017 event.
View the media release about the event.
Equal Pay
Equal Pay
Pay equity means equal pay for work of equal or comparable value, regardless of gender.
The gender pay gap measures the difference between women's and men's average weekly full-time equivalent earnings, expressed as a percentage of men's earnings. This is calculated by using Australian Bureau of Statistics' Average Weekly Full-Time Earnings data (cat. No. 6302.0)
The national gender pay gap is currently 14.6%, the lowest it has been for 20 years.1 The gender pay gap has hovered between 15% and 19% for the past two decades.2
Equal Pay Day marks the date of the additional time women would have to work on average since the previous financial year to make the same amount as men. In 2018 Equal Pay Day fell on 31 August 2018.
Lower wage rates mean lower lifetime earnings for women. The gender pay gap has implications for women's financial security, particularly in older age.
The gender pay gap is influenced by a number of interrelated factors, including:
stereotypes about women and men's roles and the way women and men 'should' engage in the workforce
women and men working in different industries and different jobs. Historically, female-dominated industries and jobs have attracted lower wages than male-dominated industries and jobs
a lack of women in senior positions, and a lack of part-time or flexible senior roles. Women still undertake most of society's unpaid caring work and may find it difficult to access senior roles
women's more precarious attachment to the workforce (largely due to their unpaid caring responsibilities)
differences in education, work experience and seniority
discrimination, both direct and indirect.3
SA Public Sector Pay Gap Analysis
In March 2016 the South Australian Government committed to undertaking a gender pay gap analysis of the South Australian
Public Sector. This is the first comprehensive attempt to quantify a gender pay gap for the South Australian Public Sector.
This analysis was undertaken by comparing base salary data of public sector employees held by the Commissioner for Public Sector Employment. Data for the last three years (at June 2014, 2015 and 2016) was reviewed to consider a historical perspective and eliminate irregularities in data for any single year.
As at June 2016, the gap between men and women's salaries across the South Australian public sector was $13,473 per annum in favour of men, a gender pay gap of 15 per cent. This is down from 17 per cent in June of the previous year.
The Analysis found:
The difference in average salary for men and women is heavily influenced by compositional and occupational factors.
There is a higher number and proportion of women in low to middle-income brackets and a higher number and proportion of men in higher income brackets, which drives the overall difference in average salary. This is consistent across agencies.
The Gender Pay Gap Analysis is the first step in providing agencies the opportunity to develop comprehensive strategies to address the gender pay gap across Government. The critical step in taking action to address and improve pay equity is to review the data and understand what is driving any gender pay gaps. A more detailed analysis of the agency data will now be undertaken, which will allow strategies and actions to be targeted to address the specific causes of the gap in each organisation.
The gender pay gap will continue to be monitored through the Office for the Public Sector's annual collection of workforce information.
Downloads:
More information:
---
References
Workplace Gender Equality Agency, National gender pay gap at 20 year low, https://www.wgea.gov.au/wgea-newsroom/national-gender-pay-gap-20-year-low
Workplace Gender Equality Agency, Gender Pay Gap Statistics August 2017, https://www.wgea.gov.au/sites/default/files/gender-pay-gap-statistics.pdf accessed 24 August 2017.
Workplace Gender Equality Agency, About pay equity, https://www.wgea.gov.au/learn/about-pay-equity, accessed 24 November 2014.
Flexible Work
Flexible Work
Many people, particularly women, struggle to balance work and the responsibilities of caring for
children, family members and friends. Access to flexible work options provides women with the ability to
manage their work and caring responsibilities while remaining in employment.
There are benefits to flexible work options for both employees and employers. Flexible working arrangements can include:
Flexible location, eg working from home or somewhere else more convenient, instead of the office.
Flexible hours, eg changing start or finish times to accommodate personal or family commitments.
Flexible patterns, eg for example, working longer days to provide for a shorter working week.
Flexible rostering, eg split shifts.
More information:
Gender Neutral Recruitment Guidelines
Gender Neutral Recruitment Guidelines

Gender neutral recruitment is the practice of setting aside the gender of applicants when hiring staff in order to address gendered biases and unconscious bias in recruitment, and increase the number of women in leadership and in male-dominated industries.
For many years increasing women's participation in employment has been argued as a matter of equality and the 'right' thing to do. Today women's full participation in employment is argued on the basis of economics - it is now the 'smart' thing to do.
An action under Investing in Women's Futures, the Office for Women has developed these guidelines to help organisations to identify ways they can increase the number of women in senior positions through gender neutral recruitment.
The Guidelines for Gender Neutral Recruitment outline a number of techniques that can be put into practice to work towards gender neutral recruitment.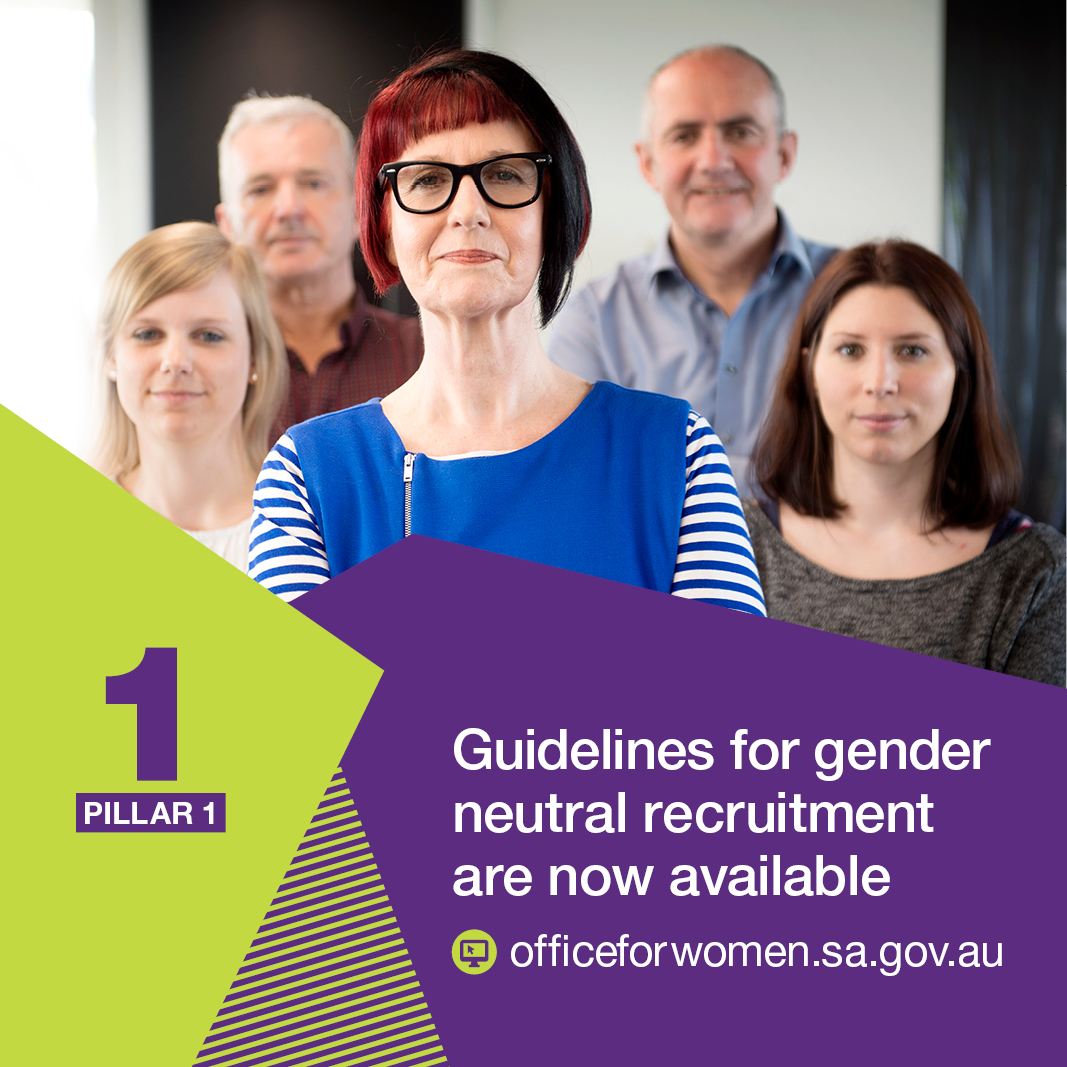 Investing in Women's Futures
Investing in Women's Futures
A woman's experiences across her lifetime can have a major impact on her economic security. Women are more likely to earn less money than men, undertake the majority of unpaid caregiving and household chores and have fragmented work histories. They often experience greater levels of discrimination, harassment and even violence, have fewer employment opportunities and have lower levels of financial literacy and independence than their male counterparts. It is this combination of factors that can leave women in poor financial circumstances in later life and contributes to the gender pay and superannuation gaps.
Investing in Women's Futures is a blueprint for helping all women gain financial independence and economic empowerment.
Investing in Women's Futures: South Australia's Women's Economic Blueprint outlines initiatives and actions which aim to support women's economic wellbeing across their lifetime by:
Encouraging the undertaking of study, skills and employment in non-traditional areas, particularly science, technology, engineering and mathematics (STEM)
Improving financial literacy
Reducing the gender pay gap
Increasing economic wellbeing to reduce violence against women
Providing support during parental leave and when returning to work
Helping to manage caring responsibilities through access to a range of flexible work arrangements
Educating women on superannuation and saving for retirement
Downloads
Current initiatives:
Paid Parental Leave
Paid Parental Leave
Australia's national Paid Parental Leave scheme currently provides leave for a total of 18 weeks which can be shared by eligible parents after the birth or adoption of their child. The leave is fully funded by the Australian Government and is paid at the adult minimum wage for each week of leave, with benefits subject to normal taxation.
The scheme should be provided in addition to existing employer funded paid parental leave schemes. This scheme encourages women to stay connected to the workforce while parenting full time and aims to increase women's workforce participation.
Dad and Partner Pay
Dad and Partner Pay is available to eligible fathers and partners caring for a child born or adopted from 1 January 2013. It provides eligible working fathers or partners, including adopting parents and parents in same-sex couples, with two weeks of Dad and Partner Pay at the rate of the National Minimum Wage.
Keeping in Touch days - staying connected to the workplace
Keeping in touch days allow an employee who is still on unpaid parental leave to go back to work for a few days. This is a good way for employees who are caring for a baby or newly adopted child to stay up to date with their workplace, refresh their skills and assist their return to work.
An employee on unpaid parental leave gets 10 keeping in touch days. This doesn't affect their unpaid parental leave entitlement and is paid at their normal wage. If the employee extends their period of unpaid parental leave beyond 12 months, they can take an additional 10 days.
Work on a keeping in touch day may include:
participating in a planning day
doing training or
attending a conference.
Useful Links:
Superannuation
Superannuation
Women can face unique challenges when it comes to retirement savings. Lower pay, time out of the workforce to raise children and running a single-parent household can make it challenging to build a reasonable amount of super.
Women also tend to live longer than men, making it even more essential for them to accumulate enough superannuation to last through retirement.
Workplace Gender Equality data shows that a gender pay gap in average annual earnings for full-time permanent employees results in an annual 19.3% shortfall in superannuation contributions for women compared to men.1
The average Australian woman currently retires with about $127,000 in superannuation savings, compared to $176,000 for men.2
35 per cent of women have no money prepared for retirement and one in three Australian women do not have any superannuation at all, including 60 per cent of women aged 65 to 69.3
More information:
---
References
Workplace Gender Equality Agency, Pay gap leads to 19.3% annual super shortfall for full-time women
Roy Morgan (2018), Single Source Survey
Association of Super Funds Australia (2014), An update on the level and distribution of retirement savings.
Useful links
Useful links
Useful Links
---
References
Workplace Gender Equality Agency (WGEA), https://www.wgea.gov.au/learn/about-workplace-gender-equality.
Goldman Sachs JBWere, Australia's Hidden Resource: The Economic Case for Increasing Female Participation (2009), p2.
Avivah Wittenberg-Cox, 'Why Japan's Talent Wars Now Hinge on Women', Harvard Business Review Blog Network, 9 December 2013, http://blogs.hbr.org/2013/12/why-japans-talent-wars-now-hinge-on-women/.
The Grattan Institute, Game-changers: Economic reform priorities for Australia (2013), p39.