Proposed legislation to criminalise coercive control in SA
Proposed legislation to criminalise coercive control in SA
The State Government is committed to criminalising coercive control to prevent and end this insidious form of violence.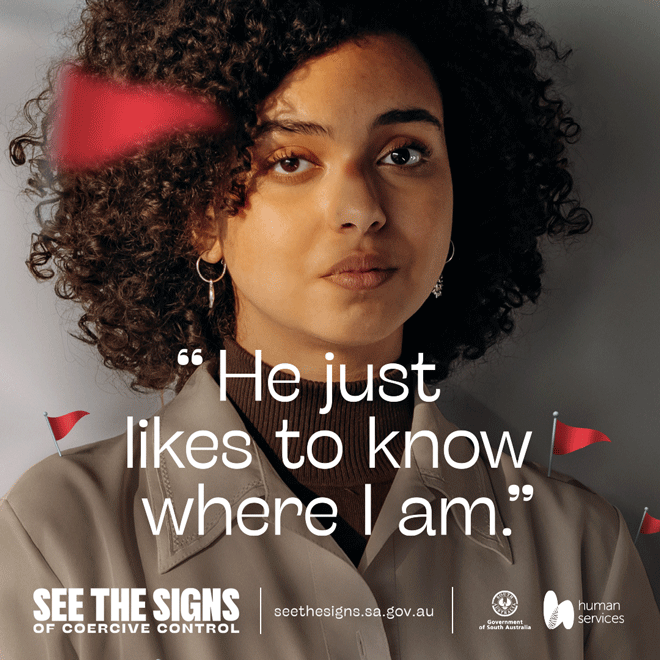 Visit the See the Signs campaign website at seethesigns.sa.gov.au for further information on coercive control and available supports. An Easy Read paper outlining what coercive control is and what the State Government is doing is provided here. (PDF 1.0 MB).
The Department of Human Services, through the Office for Women, consulted with various groups to ensure that criminalisation of coercive control legislation will be drafted with a strong understanding of community and sector needs as identified by the community. These consultations ran between November 2022 and February 2023 and provided an opportunity for community members and representatives to discuss issues around the legislation and implementation.
The consultation sessions were guided by discussion papers and the key learnings from the sessions were consolidated into summary papers, provided below.
In September 2023, the Office for Women in collaboration with the Attorney General's Department held a series of information sessions on the draft Bill to criminalise coercive control, the Criminal Law Consolidation (Coercive Control) Amendment Bill 2023. A copy of the PowerPoint presentation from the session is below.
View the Powerpoint presentation here for the Criminal Law Consolidation (Coercive Control) Amendment (Community)
Discussion papers:
Alongside this consultation, we are committed to raising community awareness about this form of domestic abuse that is too often not recognised. Information is available at the See the Signs website.
Summary papers:
Attorney-General's Department consultation
The Attorney-General's Department released a discussion paper exploring the measures needed to support the implementation of a criminal offence of coercive control, should it be introduced in South Australia.
The Discussion paper - Implementation considerations should coercive control be introduced in South Australia (PDF, 1.1 MB) was released for public consultation on 2 February 2022 to obtain feedback on the themes of awareness raising, education and training, services for victim-survivors and responses to perpetrators.
The consultation period closed 1 April 2022.
The Submissions report (PDF, 372.2 KB) provides an overview of the feedback received in response to the questions, as well as additional issues raised by respondents.
Information about the 2021 consultation on the criminalisation of coercive control is also available on the Attorney-General's Department website.
Page last updated : 28 Sep 2023